Review Details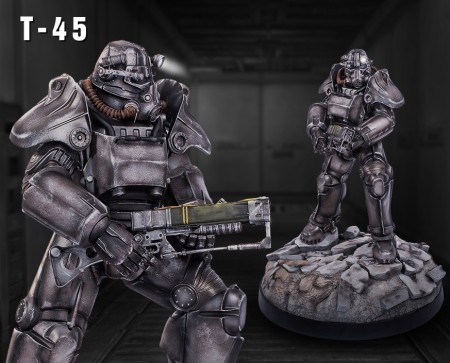 Fallout® 4: T-45 Regular Statue
Product Review (submitted on March 25, 2020):

Absolutely stunning statue. The size is massive and towers over the rest of my Fallout memorabilia - it is also about 50-60 pounds total with about 30 pounds coming from the base alone.

Extremely good paint application, with the metallic grey looking beautiful in contrast with the ashy, concrete base.

The statues comes in multiple pieces with the head and hands being detachable from the main body (they work off of powerful magnets). The main body is also detachable from the base. There is also a battery housing under the helmet that allows for the headlamp to be turned out for a decent lighting effect.

However, my statue came compromised with it's left leg snapping in half during shipping, luckily the break was flush against the edge of the armor on the back of the leg and hidden behind the kneecap - which makes me think it is an inherent problem in the mold that can possibly happen to other statues in shipping. I was able to glue it back together no problem but I warn others when purchasing this product to double check the integrity of the legs.